Link Natural has empowered women cricketers in Sri Lanka by joining hands with Sky Cricket Club to successfully conduct the Link Natural/Sky T10 Women's Cricket League recently.
Link Natural/Sky T10 Women's Cricket League is a timely multi-day event that provides talented, skilled and passionate female cricketers the platform to showcase their cricketing prowess. It supports these cricketers, who currently have little or no opportunities to exhibit their cricketing skills, by allowing them to move forward in their cricketing journey through a highly-competitive and well-organized T10 cricket tournament.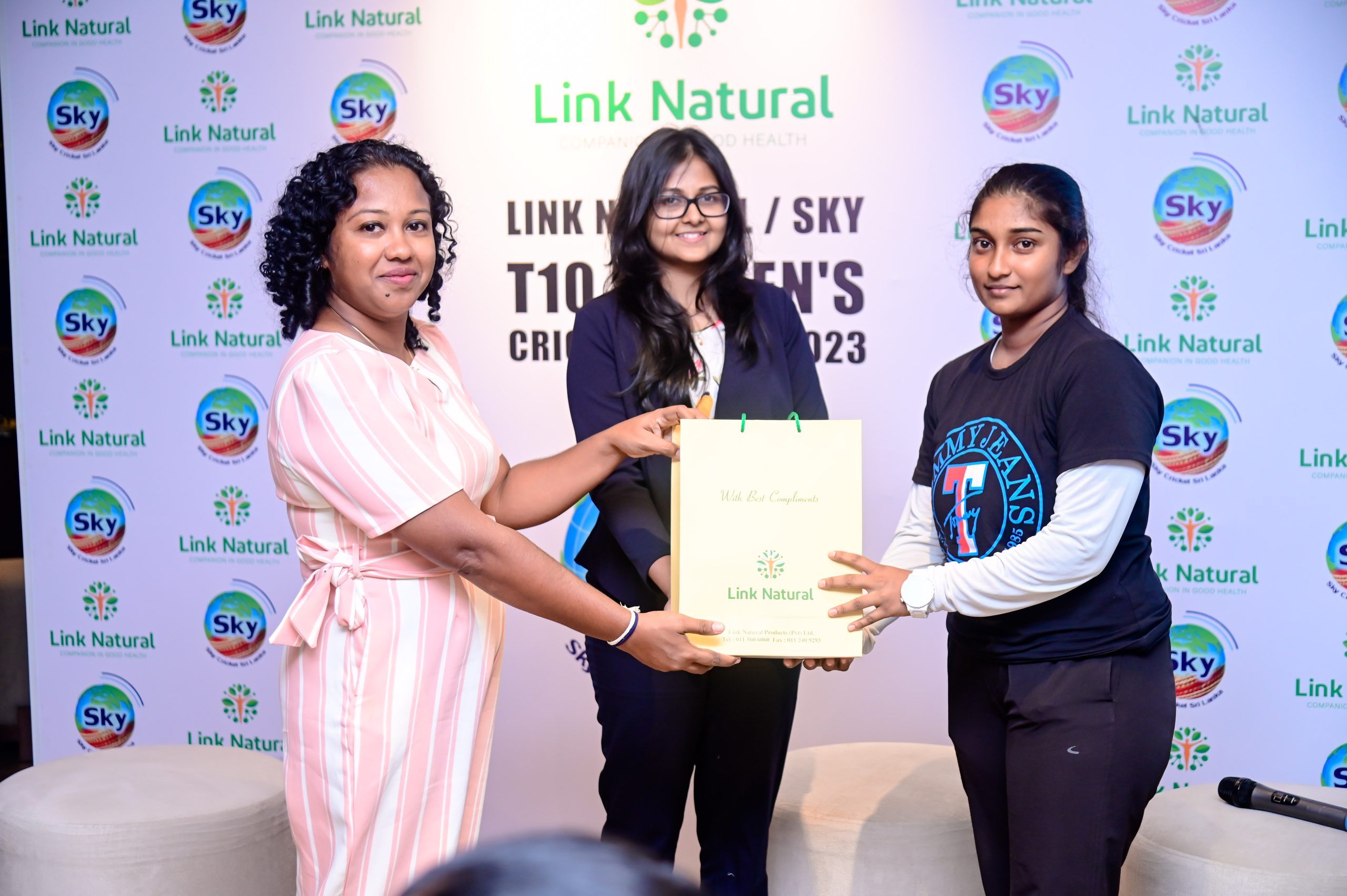 The official launch event of the cricketing extravaganza was held at Swastha by Link Natural Colombo 07 recently with the presence of 8 team captains, coaches, organizing committee and sponsors. Subsequently, the Link Natural/Sky Women's T10 Cricket League was held across 4 days, from 28th June to 1st July, at Olympic Sky Cricket Club, Horana with the participation of 8 talented women's cricket teams that included Sri Lanka Army, Nittambuwa Ladies, Colombo Colts, Moolai Victory, Old Anulians, Ratnawali, Samudra and Sky. After several thrilling matches with outstanding performances from all teams, the Sri Lanka Army team won the championship by beating the Sky team in the Final.
As the partner in good health and well-being of all participants, Link Natural provided a 'Wellness pack' for each team. Each pack contained Link Natural's safe, quality assured and efficacious products including Samahan, Crampgard, Swastha Amurtha, SP Balm and Link Kesha, all of which are beneficial for team members during the game and in their day-to-day lives to live a happy, healthy and long life.
Ruchini Liyanage – Manager of Sky Cricket Team stated, "We have organized this event with the aim of empowering women through cricket and to discover hidden talents of female cricketers across Sri Lanka. "Having Link Natural with us is a great strength and this concept became a reality because of our partnership." 
Sanodi Rajapakse – Brand Manager of Link Natural commented, "Whenever there is an opportunity to partner up with a good cause, Link Natural as an organization that focuses on health and wellbeing of human beings, will definitely come forward to support such events. We would like to wish these young talented cricketers the best in their career."
Link Natural is a leading manufacturer and marketer of herbal healthcare and herbal personal care products in addition to Ayurveda pharmaceuticals. The company is guided by the noble philosophy of combining the wisdom of Ayurveda with the latest scientific methods and today's technology to provide consumers with safe, efficacious and high-quality herbal healthcare products that enable people to live healthier, longer and more active lives. Its flagship brand, Link Samahan, is a 100% natural authentic herbal drink formulated with 14 trusted Ayurvedic herbal ingredients that have been used traditionally over centuries to enhance the health and well-being and supports immunity when consumed regularly. Moreover, it can be conveniently consumed in hot water, tea or coffee depending on the consumer's preference. Link Natural is also home to internationally trusted and time-tested products such as Sudantha, Swastha Amurtha, Swastha Triphala, Musclegard, SP Balm, Kesha and many others. These products have provided consumers locally and internationally with holistic wellness for generations. Earth Essence, a complete range of herbal personal care products, is the company's latest introduction to the retail market.