It was the saddest and humiliating moment for Sri Lankans when the Central Bank of Sri Lanka could not make good our nation's monthly international debt installment. We realised then that the rafters were shaking and an economic collapse was starting us in the face. Prior to that many blunders by our previous leaders and former Heads of State had plunged us into a bottomless pit with no respite seen in this unstoppable downward journey to national bankruptcy.

Individuals , small groups and more vociferous gatherings made an impact and started a trend of stepping out of their homes and openly protesting against power cuts, fuel and LP Gas shortages and of course the spiraling inflation rates.

Sri Lankans from all walks of life ,were demanding the resignation of the President and then the Prime Minister and the Cabinet of Ministers. By this time Sri Lanka and it's people had never before been in such dire need for basics with only a very small percentage of our population being able to endure the prevailing crisis without making noteworthy sacrifices.

The constitution allowed a defeated party leader to enter Parliament and ascend to the highest office of the land , plotted to perfection by a now rejected majority in Parliament. Though democracy was not violated, the will and the want of the masses was not exercised in this process.
It is obvious that our country needs fresh leadership and a different way of working. Professional think tanks and watch dogs finding solutions to counter the present and to make resolute, well planned out road maps to motor along in the future.

It is the intention of a few patriots to consolidate all good ideas and draw up evidence based plans that can be activated effectively.

Dhammika Jayasuriya , Milindha Hettiarachchi and Dr.Sarath Seneviratne decided on a Trust and a Board of Trustees consisting of Richard de Zoysa , Visakha Tillekeratne , Avanthi Sahabandu, Selvi Sachithanandam and Ishan Jaleel .
This Trust will present THE PEOPLE'S CONVENTION FOR GOOD GOVERNANCE and WAY FORWARD on Saturday 25th February at the Main Conference Hall of the BMICH.
The Trust stands for the following standards:
· Zero tolerance on politicization of key decision making and appointments and interference in the judiciary.
A clear and people friendly constitution with no biases with quintessential justice and fair play as the key thread that runs through
· Meritocracy and lack of nepotism: New and fresh faces need to be at the helm of key sectors and institutions.
· Absolutely anti corruption: There has to be participation from suitable non related stakeholders and transparency in key financial decision making. Eg: tender boards Systems must be automated for neutral decision making where the country and its people get the best at the right cost. Savings on deals and trades must be made public and deposited as a Trust for the well being of citizens.
· Right to information has to be alive and in practice.
· Waste of assets has to be quantified and cleaned up with estimation of values. Learning from this has to be incorporated into planning mechanisms and be made zero tolerance.
· Key sectors such as finance and the economy (tourism that is ethical and unique to Sri Lanka), health, education (English education, accessible and modern vocational training, value based education for all) agricultural and industrial production, service industries, international relations and youth development which are re-engineered.
· Sustainability has to be key and the environment has to be protected with safeguards in place and activated.
· A free, efficient and effective public service based on merit and right sized, free of political interference.
These will be activated by gathering evidence and organizing evidence based communication campaigns that will quantify, name and shame.

The Convener of this National Initiative,Richard de Zoysa will welcome the delegates and deliver the introductory speech which will set the tone for the day's Agenda.
An address by an authority of the post Independence era right upto the present day will clearly speak about our spells of the good, the bad and the ugly .

Four forums on the Economy, Education reforms , Productivity and Exports and Ethnicity, represented by the best panelists available, moderated by experts will give the delegates and all those who will watch live telecasts including worldwide streaming ,practical solutions to get back on track after facing daunting challenges to merely exist.
After a Q and A session, De Zoysa will announce an initiative that will assist helpless entrepreneurs titled Arise Sri lanka.
The delegates to the convention will be handpicked. These will be Corporate leaders of integrity, professionals, university Dons, Civic Leaders, Youth leaders and other important personalities and representation of citizens.
H.E the President of Sri Lanka , the Prime Minister , the Cabinet of Ministers , the Leader of the Opposition and a few noteworthy Parliamentarians together with the leaders of all political parties and the Diplomatic community will be invited to listen to the demands of the people.
All media institutions local and international will be invited to cover this hallmark gathering. A Declaration for all delegates to place their signatures if they wish will be presented. The work plan on the way forward will be unfurled.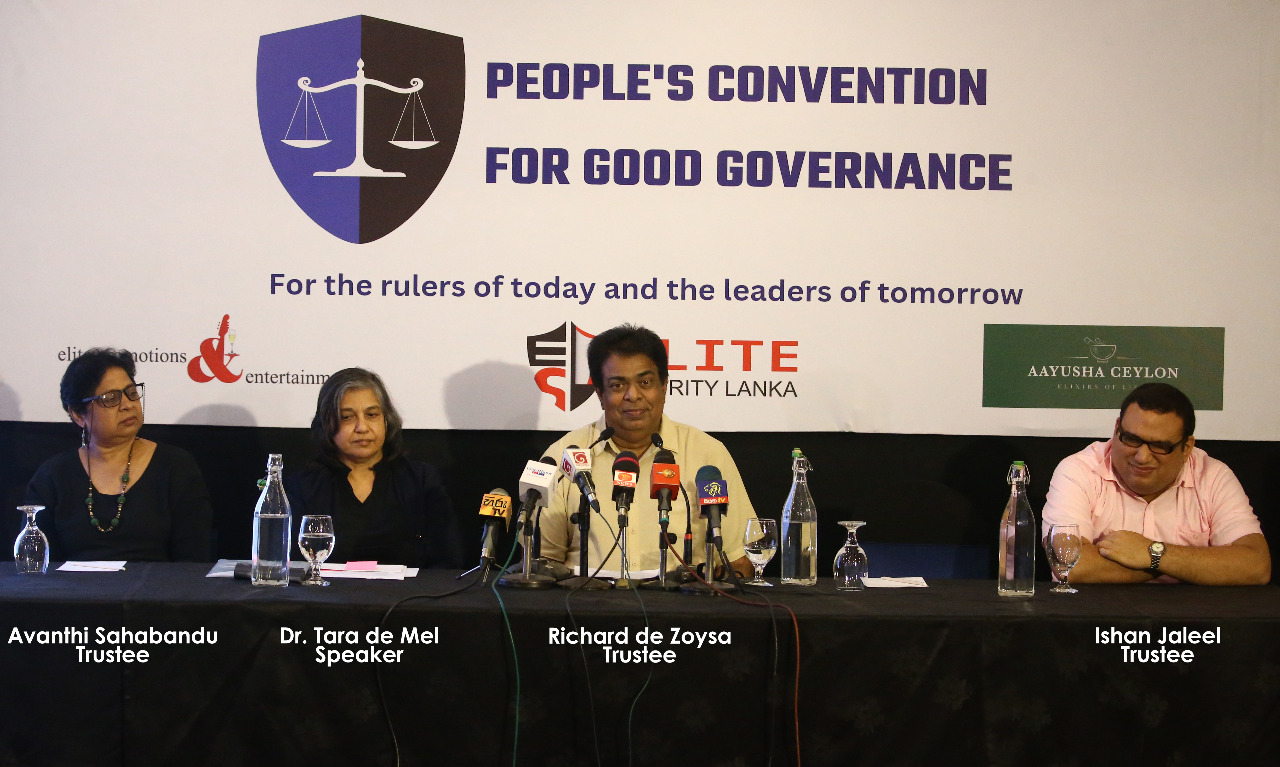 FOR THE RULERS OF TODAY AND THE LEADERS OF TOMORROW.